AllGood Home Improvements Mission Statement
Ed Grant, President of AllGood Home Improvements.
At AllGood Home Improvements we understand that your home is your most single largest investment. Finding a contractor that you can trust to work on your home is crucial. At AllGood Home Improvements we refuse to cut quality of materials and workmanship for a so called bargain price.
We realize that you know good things are not cheap and cheap things are not good. So if you would prefer to do it right the first time, REMEMBER, there's only one name to trust and that's AllGood Home Improvements!
About AllGood Home Improvements
Your home's appearance makes a big impression on visitors or passers-by. The result can be positive or negative – it's entirely in your hands! With the right contractor, you can create your dream home in an affordable, efficient manner. New roofing, siding, or windows will update your living environment, increasing value and giving you a space you are proud to own.
In business since 1993, AllGood Home Improvements and our other location in Cincinnati have provided high-quality home exterior services to our happy customers. We take the time to truly listen to your desires and help craft a solution unique to you. All of our products are industry proven and built to last, with a variety of colors and options available for optimal customization. Our trained technicians are well equipped to solve any problem you might have in an innovative fashion. And our friendly attitudes will put you at ease throughout the entire process. Why not put your ideas into practice? Let us achieve something incredible together!
Related Videos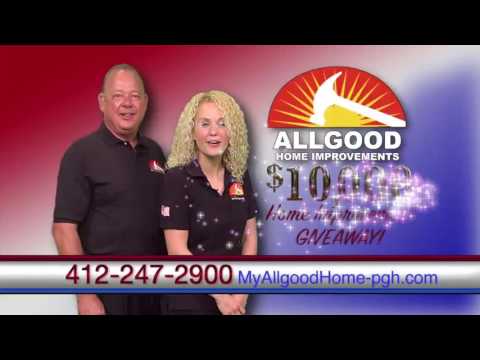 2016 Sweepstakes Winner Commercial
Commercial featuring our 2016 Sweepstakes Winner. Congrats to Bonnie. Watch Video »
Our Accreditation's and Affiliations
Here at AllGood Home Improvements, we maintain a number of partnerships to ensure our best for our customers. We are accredited with the Better Business Bureau and Angie's List, proving our dedication to customer service. We have been screened by the League of American Homeowners, a non-profit benefit organization founded by homeowners, who attest to our excellent standards. Finally, we are certified with the National Association of the Remodeling Industry, and our company is a Certified Shingle Master with CertainTeed, a leading manufacturer of several building products including roofing and siding. These organizations keep our industry knowledge current so we can provide our customers with solutions and products that work.